NORTH 1 EAST
PERCY PARK 21 – 11 POCKLINGTON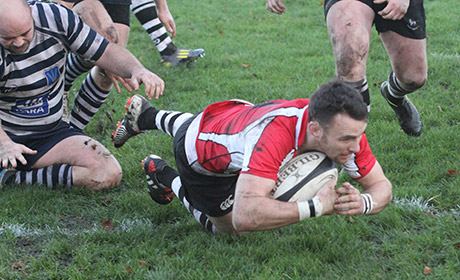 John Scott Scores Parks First TryPocklington made the journey from East Yorkshire from their home on Percy Road to Percy Park, looking to bounce back from a shock home defeat last week at the hands of West. Pock have the stingiest defensive record in the league, and that was certainly on show during a fairly uneventful first 20 minutes, in which the visitors on balance had more of the ball.
With low light conditions expected and the visitors in blue and white hoops, Park changed to red shirts.
Ash Smith and Jack Walters traded penalties on 2 and 9 minutes before Park went into a 6 – 3 lead at the end of the first quarter with another Smith penalty after Pocklington were penalised for not releasing the tackled player.
Percy Park scored their first try of the game after a solid scrum near the visitor's line. Pock are renowned for their strong scrummage, but from the off, their pack were going backwards and on this occasion looked to be on castors. With a command of "use it" from the referee, Park were unable to drive Pock over the line, and Sean Williamson was stopped short, but from the ruck that ensued, John Scott picked up and dummied his way through a gap to score under the posts. Ash Smith converted to move Park ahead 13 – 3.