North One East
Wheatley Hills 23 – 22 Percy Park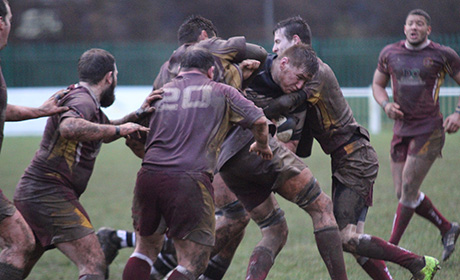 Josh Hedley attempting to break the Wheatley Hills DefenseDespite Park scoring 4 tries to Wheatley's 3, they went down by a single point which was in the main a combination of not converting crucial kicks and gifting penalties for moments of indiscipline.
Park had an early penalty kick at goal but the ball drifted wide, however soon after Ali Blair was gifted an interception which he gratefully accepted, running half the length of the pitch to score on 11 minutes. Toby Davison's conversion attempt hit the right post and bounced out.
Wheatley hit back with 2 tries in 2 minutes, the first coming from Number 8 Tom White, and the second another interception which saw James Montgomery stride in under the posts for a try which was converted by Owen Gilvray to give his side a 12 – 10 lead after 20 minutes.
The visitors came back with a catch and drive try with Joe Wafer getting the touch down and Davison kicked the extras to level the scores which was how the half finished 12 – 12.